Parsons Cemetery: A brief history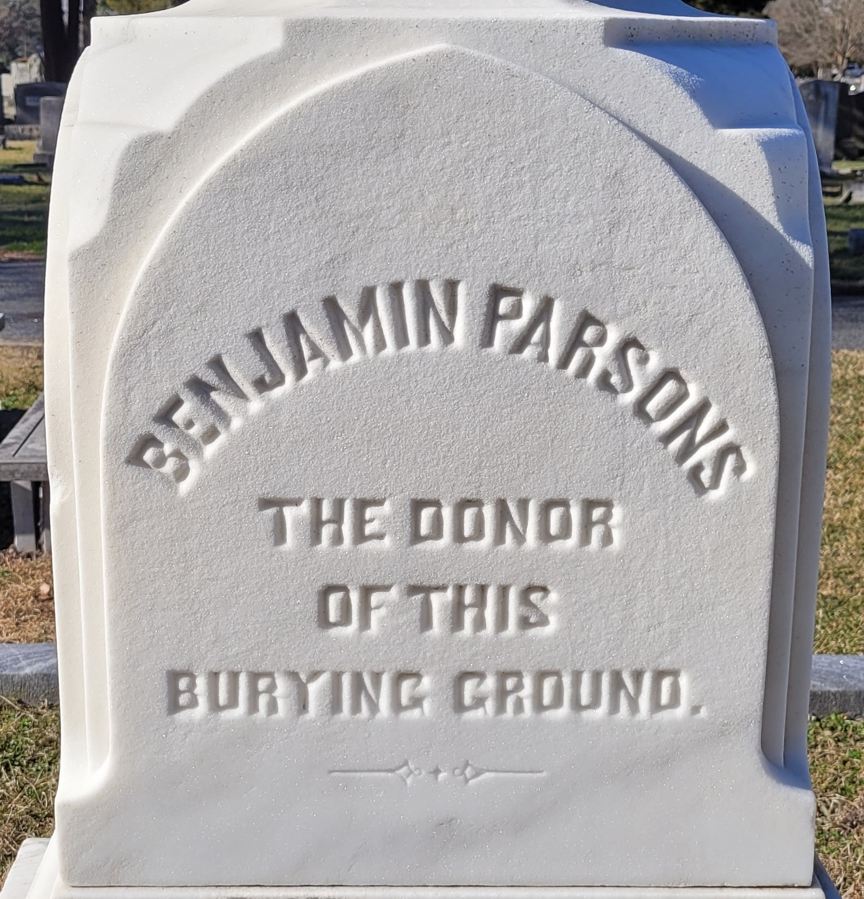 The history of Parsons Cemetery begins with the Parsons family burial ground prior to the Civil War. When Benjamin Parsons died in 1873 without any children, his will stipulated that his home and 53-acre farm were to go to St. Peter's Episcopal Church as a cemetery. St. Peter's moved the graves of their Church members from a small plot next to the Church to the newly acquired cemetery. The original cemetery was 2 acres in size, but over the years the cemetery has grown to 18 acres, covering an area from North Division St. to Johnson's Pond.
The genealogy of the Parsons family was graciously provided by the Edward H. Nabb Research Center for Delmarva History and Culture. It begins with George Parsons who was born in 1708. He had two sons, William and George. William had a son he named William and it was this latter William's son, Benjamin, who was the benefactor of the cemetery. George Parsons' other son, also named George, had a son named Jehu. Jehu had a son named Alison, who named his son Jehu. This Jehu was the mayor of Salisbury from 1898-1900. He named his son Alison after his father and this Alison is the donor of the funds for the design and construction of the brick wall along N. Division St. and the iron gates to the cemetery. A noted Williamsburg architect designed the wall, and the iron gates were hand-fabricated by a noted craftsman in Norfolk. These were added in 1967. In 2000, George W. Parsons of Pittsville, a cousin of Benjamin and Alison, passed away bequeathing a generous amount of his estate for the perpetual care of Parsons Cemetery. Learn more about Parsons Cemetery's history by taking our two historic walking tours.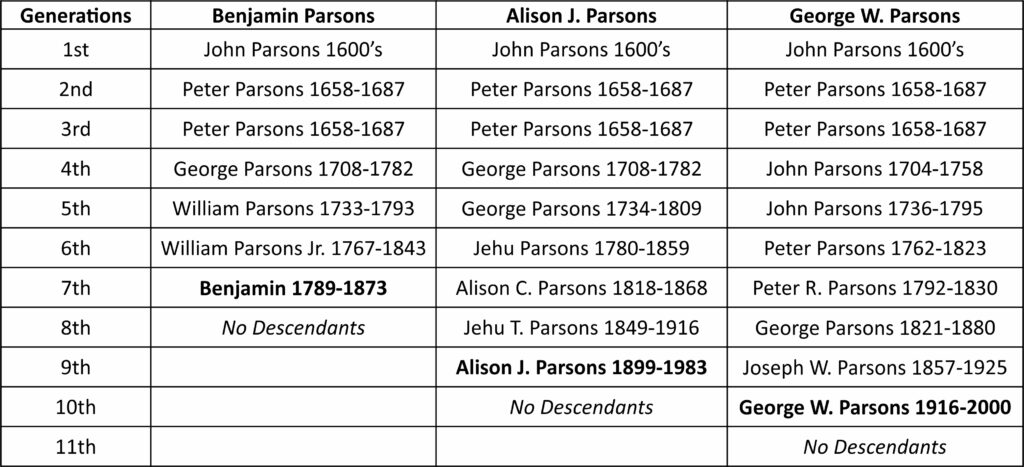 Parsons Cemetery:  Today and Tomorrow
Today:
In 2004, a new Parsons Cemetery Advisory Committee (PCAC) was organized to include six voting members; three from St Peter's Episcopal Church, and three from the community.  Their stated mission is to manage the cemetery operations and grow the Perpetual Care Endowment Fund managed by the Community Foundation of Eastern Shore Parsons Cemetery.  St. Peter's continues to own the land, but Parsons Cemetery is a separate non-profit entity with separate financial reporting.  Four of the six members are Charter Members knowledgeable of all the original goals and commitments, and have provided consistent leadership and ensured the PCAC's efforts track with its mission and initial objectives.
This new committee met on January 27, 2004, and agreed the first order of business would be to clear the remaining two acres of undeveloped woodland, thus establishing 2,200 new plots.  Additionally they determined a Memorial Walkway, with a meditation area, should be built along the waterfront to memorialize the Parsons Family.
These objectives have been accomplished along with additional  goals and objectives, e.g.,
Selling the old administrative and maintenance property on London Street and building a new Administrative/Maintenance building in the cemetery
Competitively contracting out for professional cemetery management services and a day-to-day professional Cemetery Manager
Purchasing the Ramaker's Cemetery  Information Management System  (CIMS) software program, a management and data program used by more than 700 cemeteries of all sizes throughout the United States and internationally
Incorporating more garden color and trees with plantings
Creating a permanent cremation garden was considered later in response to increasing interest in cremation options
Through continual analysis of all income and costs associated with every aspect of managing this cemetery on a monthly basis, the PCAC has managed to grow the initial endowment while making major improvements to the cemetery and improving grounds maintenance through grants
Tomorrow:
Parsons Cemetery's mission objectives face two hurdles:
Public recognition of Parsons Cemetery as a viable cemetery, open for business and open to people of all faiths
Growing the perpetual care fund to ensure this historic cemetery is cared for properly in perpetuity
To achieve greater public awareness, the Committee has established a Facebook Page and this Website.  The Website and the CIMS software program are both works in progress. We will continue to work to create greater interest in Parson Cemetery and the history of those resting here.  And, this is an area where the community can help us by sharing your families histories and pictures for entry into CIMS as a permanent record and to enable us to focus on and share your stories on Facebook and/or this website.
Growing the perpetual care fund is the Committee's mission, a percentage of all sales is transferred to the perpetual care fund.  Gifts and bequests are encouraged and general information on giving is provided on this website. However, there are many individual options for memorializing your loved ones through a gift to the cemetery and interested persons can reach our committee members or representatives at the Community Foundation for more information.